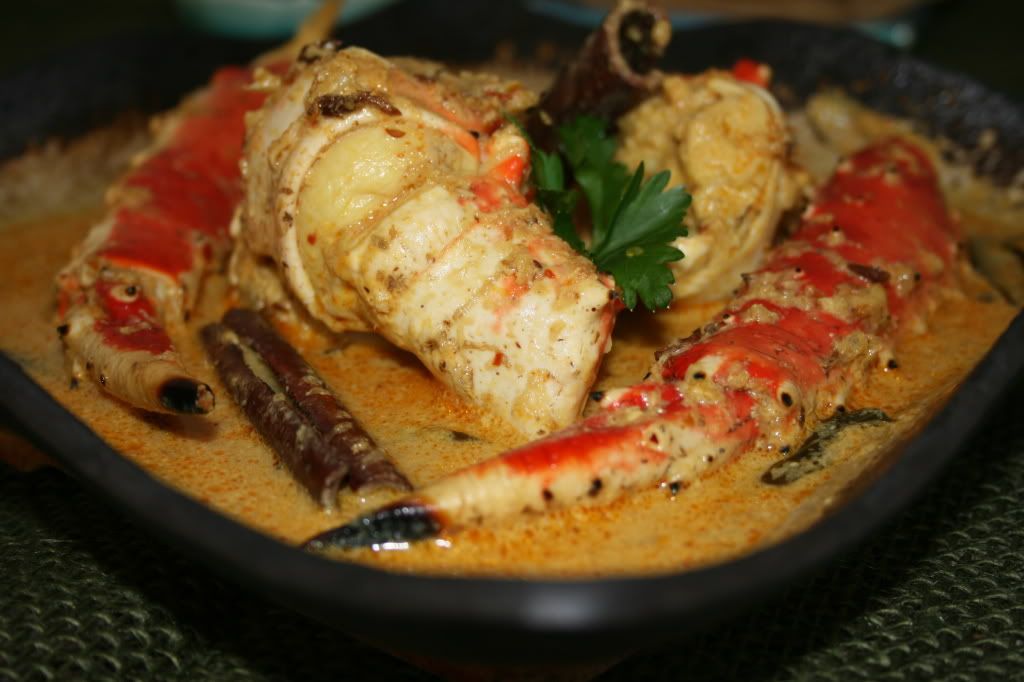 I first introduced this addictive curry by a good friend of mine who is born in Sri Lanka, but raised in Australia. He is an exceptionally good cook, everything he makes is always a hit among us. This curry is one of the many dishes that we always looking forward every time we go to visit him.
Recipe adapted from : Encyclopedia of ASIAN FOOD
2 mud crabs, or 4 blue swimmer, or spanner crabs
3 tbs oil
2 large onion, finely chopped
2 tablespoon finely chopped garlic
1 tablespoon finely grated ginger
Sprig of fresh curry leaves
½ teaspoon fenugreek seeds ( I only used 5 seeds, then crushed them into powder)*
1 stick cinnamon
2 teaspoons chili powder, to taste
1 teaspoon ground turmeric
2 14 fl oz canned coconut milk
3 tablespoons grated coconut
1 tablespoon ground rice
lime juice, to taste
Clean and cut the crabs yourself, if you wish! 
Me? are you kidding? I would ask the fish monger to do it for me, it creeps me out!
Fried the onion, garlic, and ginger until soft and the ginger releases its fragrant. Transfer to a food processor, add the grated coconut, process until you get a smooth paste.
Heat a large pot on a medium heat, add the remaining oil. Transfer the paste to the pot, add curry leaves, ground fenugreek, cinnamon, chili powder, and turmeric. Stir and fry for a minute. It will smell so good! Add crabs, and drumstick leaves (if using) to the pot, stir to coat them with the spices. Pour one canned coconut milk, add about 2 pints of water, stir again. Then simmer for 2o minutes. Stir from time to time.
Add the other canned of coconut milk, add salt to taste. Stir and continue to simmer for another 10 minutes (don't let it to become a boil, or the coconut milk will separate). Taste to see if need more salt. Serve with steam Basmati rice. Not too complicated, right?
Note on ingredients: I use Dungeness crab for this curry, didn't use any
drumstick
leaves (too lazy to make a trip to Indian store), and I use fresh/frozen grated coconut, I bought them from the Chinese grocery store. They normally have them in the freezer section.
*The original recipe use ½ teaspoon fenugreek seeds, I used only 5 seeds, because I am afraid that it will make my curry a little bit bitter. Too much fenugreek, it will turn any dish bitter.