With a tropical climate, fresh fruit, vegetables and spices are in abundance and used in many ways. Freshness is the key to the food with households regularly shopping more than once a day for produce.
Many families have a curry leaf tree and grow some vegetables - some virtually unknown outside Sri Lanka such as drumsticks, which are used in curries and accompaniments and their leaves a popular addition to the favourite crab curry.
Every meal comes with rice - a simple Sinhalese greeting translates as 'have you eaten rice?' A simple meal is rice, some sambol made with chilli, pickles or chutney to liven up the flavour and wake up the taste buds, and at least one vegetable curry or dhal. Then there may also be a huge range of dishes from meat-based, many more vegetable-based and seafood dishes - a banquet often looks incredibly colourful with curries that range from yellow to deep brown , the vibrant greens of the vegetables and the bright colours of sambol. Whilst it is a staple, rice also features in celebratory dishes such as kiribath, or milk rice, which is traditionally the first solid food given to a baby, as well as a feature at weddings and New Year's Day.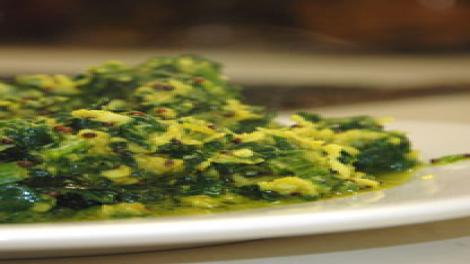 Sri Lankan food is a labour intensive cuisine as many dishes are intricate and time consuming. Hoppers are an example - they're the bowl shaped rice flour pancakes which are used to scoop up curry and rice. Even more labour intensive are stringhoppers which are fine rice flour strings that have been squeezed through a sieve and are curled into a little circular mat and steamed - these are a feature of banquets for special occasions.
Fresh coconut is grated every day and used in sambols, vegetable dishes such as mallung, and desserts. Often coconut is dry toasted and added towards the end of the cooking of a curry to thicken and add a lovely toasty flavour.
Desserts are rich and sweet and reflect the many influences on the cuisine - from elaborate cakes to rich custards flavoured with spices such as wattalappam. Many expats mourn the inability to find a simple but exquisite favourite called
Sri Lanka, the beautiful spice island once known as Ceylon, is a rich melting pot of cuisines. It seems every nationality that has visited and traded over the years has left a mark on the cuisine - the Dutch, Portuguese, English, Arabs, Malays, Moors and Indians.