The Indian sub continent is a food lovers paradise for a reason. The availability and usage of aromatic spices, fresh ingredients and cooking methods make it easy to get addicted to Indian food and stay that way. It is never easy to pin down one single way of cooking a dish, the variations to the same dish are sometimes subtle and sometimes not so subtle. The result is not just regional cuisines but micro regional cuisines.
Though the spices used are predominantly the same the way they are cooked and combined can be very different. So lets take South Indian or more specifically Tamil Nadu cuisine and SriLankan/Tamilian cuisine. Though the spices and the ingredients used are more or less the same but the resulting dishes taste very different.
So if you combine onions, tamarind, chilli powder, salt and a bit of sugar I would call it puli kuzhambu but my Srilankan friends call it Sambal. Yes one is watery and the other is dry amd I am probably over simplifying it but the fact remains. Sambal is a condiment made primarily with chilis and used as a condiment to spice up a dish.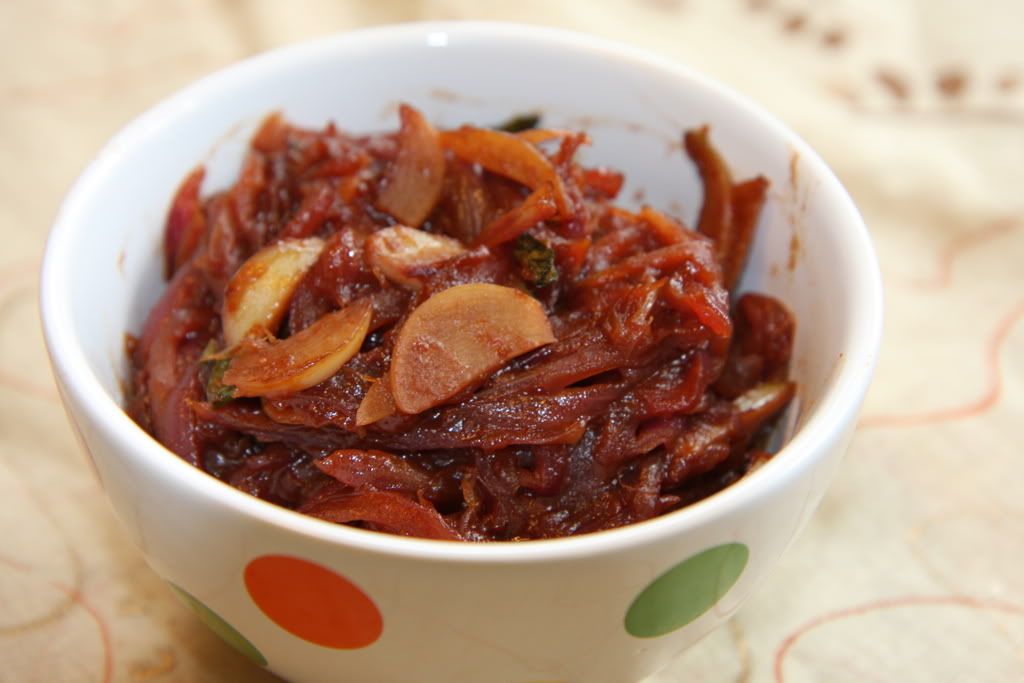 Seeni sambol is slightly sweet because of the caramelized onions and the added sugar. The amount of chili powder can be adjusted to make it as spicy as you want.
The onions can be deep fried and vinegar used in place of the tamarind. It is a perfect side for rice, idli,dosai or chapathi. The recipe that my friend gave had onions,sugar,chili powder,salt and sugar. I followed the recipe from the Hindu newspaper
website here
. It is also has a few other Sri Lankan recipes so if you interested.


Ingredients

3 Large red onions sliced


4-5 garlic sliced


small piece of ginger grated


curry leaves a few


1/2 tbsp chili powder


2-3 tsp jaggery


1 tbsp tamarind extract(I used a small lime sized ball with minimum water to extract the pulp


3 tsp oil


salt as needed


Method

Heat oil in a pan, add the curry leaves, onions, ginger and garlic and saute till the onion starts to get brown


Add the chili powder,salt,tamarind extract and continue to cook on low heattill the onion comes together 20-25 minutes


add the jaggery at the end when your required consistency has reached


continue to cook for a few more minutes till the sugar is incorporated well


The condiment can stay for atleast a week and probably more if refrigerated.


We had them with Avacado parathas, the addition of avacado to the dough made it super soft and fluffy. The idea for which came from
Priya's Easy N Tasty Recipes.
I used wheat flour, couple of avacados mashed, salt and a tsp of oil.
Also check out
Indira's version
.