The Tantalising Tastes of Sri Lanka
The tastes, the sounds and the smells of Sri Lanka is a truly satisfying experience and the unique blend of local spices and coconut milk used in traditional culinary sets Sri Lankan cuisine apart from other traditional Asian cuisine.

Influenced by the local spices, regional cuisine, colonists and foreign traders, Sri Lankan cuisine has evolved through the times to offer a distinctive taste. For most Sri Lankan's preparing and consuming local fare is an art - more of a way of expressing their spirituality, sensuality, devotion to family and friends and satisfying their senses.

Rice being the staple diet locals consume it daily, and most often, at all three meal times and both the red and white varieties are popular. For special occasions, especially religious occasions, rice is boiled in thick coconut milk to make a creamy textured rice pudding called 'kiri-bath' of soothing delectable flavour. Kiri-bath can either be consumed with 'lunu-miris', a chili relish or 'Pani-pol', a gooey coconut and treacle confection.

Sri Lankan's savour spiciness and spicy curry is generally consumed with the staple rice or with other bases such as 'Hoppers', 'Roti', 'Pittu' and 'String Hoppers'. Meats, fish, vegetables and even eggs are prepared with local spices and coconut cream. Onions, green chillies, black pepper, cardamom, cloves, cinnamon, saffron, garlic, ginger, curry leaves, herbs and nutmeg are provides the different flavours and aromas. A complete rice and curry meal, which includes a meat or fish curry, two or three different vegetable curries, dhal curry, and a 'mallum' made of chopped leaves and coconut, makes the most scrumptious course.

Like most countries Sri Lanka boasts a range of local fare. Pol Sambol, a simple combination of grated coconut, onions, red pepper, green chilli, salt, Maldive fish and lime, makes the most versatile and gratifying entremets. For most Sri Lankans Pol Sambol is staple; Pol Sambol with local peasant bread and dhal makes the most amazing meal. Fish 'ambul thiyal' or sour fish curry is the local method of preserving and consuming tuna. Cooked in a mixture of 'goraka', a local souring and thickening agent, black pepper, and other spices, the fish just simply melts in your mouth. The 'Polos' curry or 'Ambula' is also a unique local fare. Polos, or young jack fruit, is cooked in a combination of local spices and coconut cream to result in a luscious sourly spicy curry.

Rice substitutes are also popular amongst the locals. Most of these are made out of rice flour and can be consumed with the traditional Sri Lanakan curries. "Hoppers', a variant of pancakes, is made out of a batter of rice flour fermented in palm toddy. Cooked in the round cast-iron pan, this concave pancake has the most amazing toddy flavoured fluffy centre and a golden brown crisp border. Hot hoppers make the most fulfilling meal and it goes down well with both spicy (try lunu-miris), and sweet accompaniments. 'String hoppers', the local version of vermicelli, is made of rice flour and is the easiest substitute for rice. A dough made of rice-meal and water cast through a string mould is steamed on little wicker mats to create this light lacy meal which goes well with dhal curry, a local meat curry and the ever versatile Pol Sambol.
My Sri Lanka with Peter Kuruvita
Sydney chef Peter Kuruvita, who heads up harbour-side restaurant Flying Fish, fronts a new food series for SBS in which he travels through his ancestral home of Sri Lanka.
My Sri Lanka with Peter Kuruvita is a ten-part series combining cuisine, cultural and landscapes as he travels across the country, from seaside fishing village to lofty tea field, using his grandmother's recipes as a guide.
A chief is the best-known Sri Lankan in Australia
From Samson Abeyagunawardena, reporting from Canberra
The current best known expatriate Sri Lankan in Australia surely is Peter Kuruvita, a chef. His weekly My Sri Lanka television show broadcast nationally across Australia by Special Broadcasting Service (SBS), now into its fifth episode in a ten-part series, is drawing record audiences at peak viewing time. He is winning the hearts of hundreds of thousands of Australians …through their stomachs.
Chef Peter Kuruvita revisits his familial homeland, exploring kitchens, eateries & traditional recipes.

"A journey of the unique food, colourful culture and deep history of Sri Lanka, this new series follows Peter Kuruvita, co-owner of Sydney's Flying Fish restaurant, as he relives his childhood on this lush green island. Along the way, he shares intimate and evocative memories, and family recipes handed down from his aunties and grandmother"
The Southern Indian influence in Sri Lankan cuisine can be seen in the form of Pittu and Thosai. Pittu is made by steaming a mixture of grated coconut and rice flour in a bamboo mould. The steamy, soft, crumbly Pittus has the most enticing aroma and is best eaten with fresh coconut milk, lunu-miris and local meat curry. Thosai, which resembles a tortilla, is made of a batter out of fermented lentil flavoured with local spices, which is then cooked on a hot griddle. Thosai is most often eaten with a mixed vegetable curry accompanied by a green-chilli and coconut sambal.
Sri Lankan cuisine is generally accompanied by local beverages. A hot cup of plain-tea (tea without milk), at times brewed with root ginger, is the ideal drink to wash down a typical spicy local meal. The two local intoxicators are 'Toddy' and 'Arrack'. Toddy is a version of Palm Wine and is made out of the sap of the native palm tree. This drink is very popular in the villages and committed tappers risk a precarious rope walkway between trees to collect the sap. Toddy is distilled to make the spirit Arrack. Arrack is produced under many different labels and is traditionally consumed either straight or with water.
As mentioned before, preparing and consuming food is an essential element of the art of living in Sri Lanka. For most actually the art is in consuming; especially so when it comes to constant snacking. Wayside shops and in general all restaurants and
hotels in Sri Lanka
 aspire to serve this insatiable appetites of the locals. In Sri Lanka the mother of all snacks is the 'Maalu Paang', a triangular bread roll filled with fish flavoured vegetables. Next in line is the 'Elawalu Roti', a triangular local 'roti' stuffed with a similar fish flavoured vegetable curry.
The ideal way to finish off a spicy local fare is by tantalizing your taste buds with local tropical fruit and sweetmeats. Delicious local pineapple and mangoes are in plenty and makes perfect digestive whilst the 'Treacle' based local sweets serves as more filling desserts. 'Kavun' and its variants are special Sri Lankan sweetmeats which are associated with the Sinhala and Tamil New Year. These confections are generally made of various grain flour and Treacle (local honey).
Come visit Sri Lanka and experience all these diverse cuisine, assured to satisfy you completely.
Larry Austin is a freelance journalist who writes on travel related topics such as
hotels in Sri Lanka
and Sri Lanka destination reviews etc. He is currently working for roomsnet.com which offers visitors the option of world wide hotel bookings. roomsnet.com offers many last minute
hotel in Sri Lanka
deals for holidaymakers.
Photo source-hubpages.com/hub/Hot-and-Spicy-Sri-Lankan-Cuisine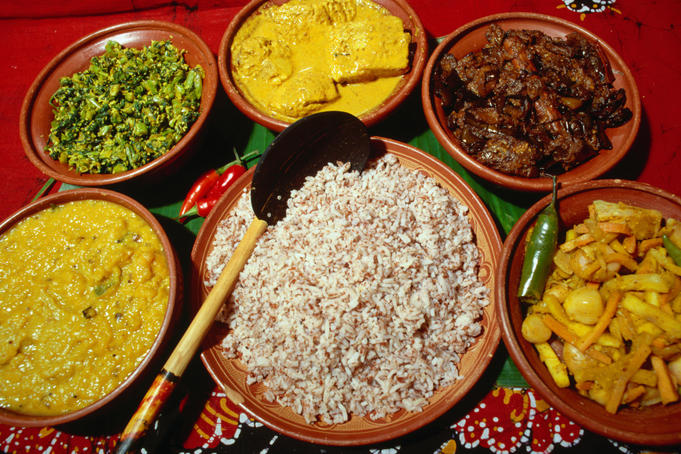 Above photo-www.lonelyplanet.com
Sri Lanka for food lovers
Sri Lankan - Food Safari - Food From Island Of Spices
Sri Lankan Food: 40 of the Island's Best Dishes
Experience new style of cooking,Hotel Bolgoda Park is open to all of you..We would like to show you the greatest hospitality we can offer you.
My team and I are always here to offer you the real blend of taste of our great cuisine

When you are visiting our beautiful Sri Lanka , you want to try the best of the best cuisines while you are passing through. There are many fantastic dishes that are made differently, and are exceptional.The high quality and the simplicity of ingredients in Cuisines make for a pleasant surprise for guests as they experience mouth watering culinary bliss when touring Sri Lanka

Thank you

Executive Chef Duminda Abeysiriwardena
Executive Chef Duminda Abeysiriwardena
on SIRASA TV - Rampe Karapincha
WELCOME TO HOTEL BOLGODA PARK